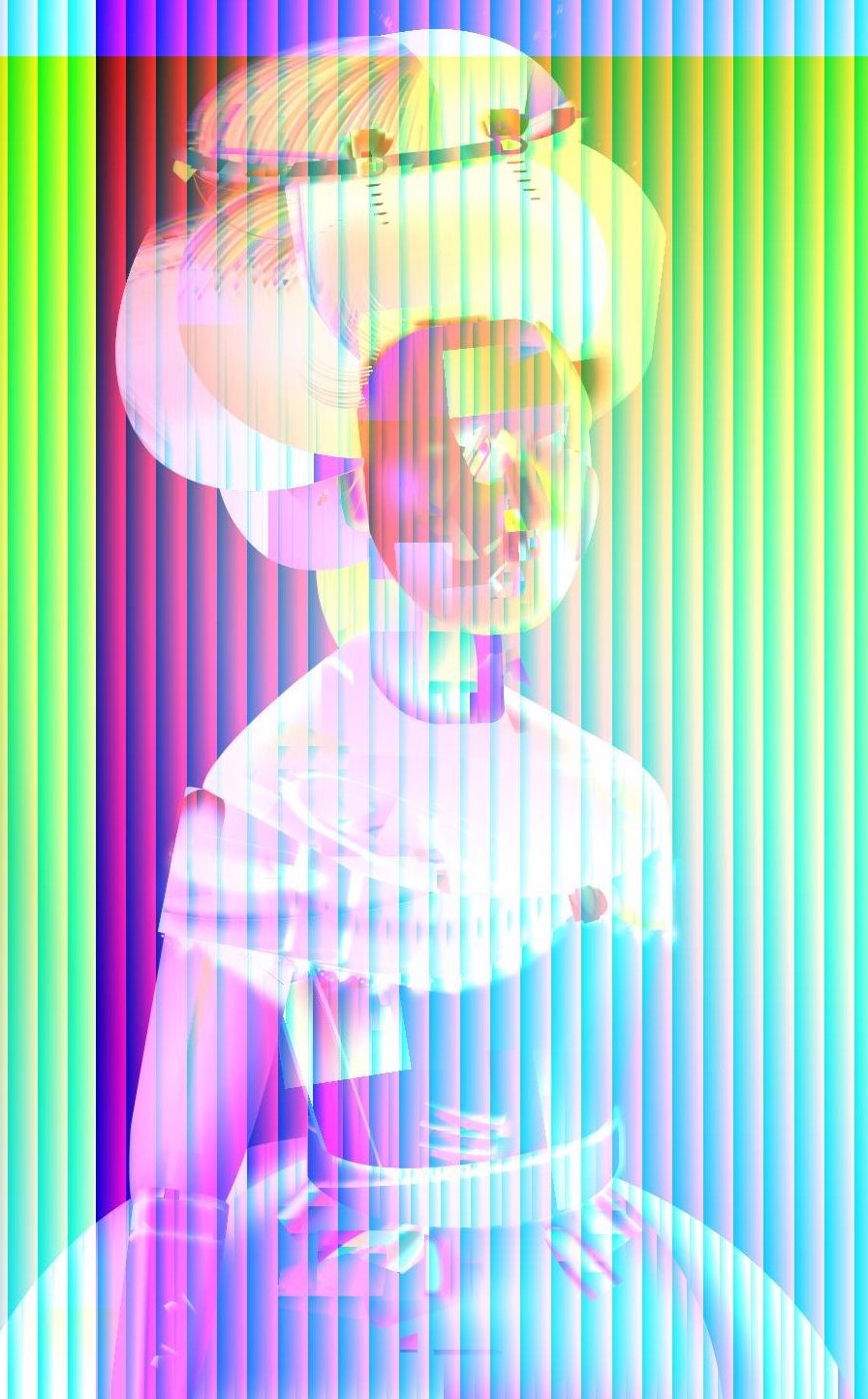 Source Material - Diana Smith's "Pure CSS Francine"
(Included with permission from the original artist)
Francine is fun to ruin because she exists to torment browser implementations. Unlike a normal raster image, she's made up of hundreds of little divs slammed full of gradients, filters, and transforms. Normally when we mess her up, it's some subtle bug that makes a random patch in her design look wrong, like a sloppy shape-shifter.
The final result I got was essentially turning this broken shape-shifter effect up to maximum. All of her facial details have melted away, and her entire body is mired by mysterious patches of discontinuity. This partially reveals the incoherent mess she really is, as she stares blankly into nothingness. Huge Mood. Same.
My coworker liked this one so much that he printed off stickers of it. If you ever bump into me in meatspace, I might have a few to share!
Corrupting The Brush Shaders
This was before I worked out the Right Value Wrong Place approach, so I was mostly just messing around with colors inside WebRender's "brush" shaders, which are fancy texture copiers. I actually mostly work near the front of our rendering pipeline, so I don't really understand this code very well!
Embarrassingly, I spent a while failing to mess up transparency in the brush shaders, wanting more things to "poke through" and randomly dissolve. I'm pretty sure what I was trying to do didn't actually make any sense, in retrospect.
We generally avoid creating proper 3d scenes where making something transparent at the last second would "show" what's logically underneath it. Everything is clipped, culled, and fed through opaque passes as much as possible, so there isn't anything "underneath" to reveal. That sort of stuff only happens if there's already opacity or animations to motivate things being drawn into their own textures and composited.
Also, as I was shocked to learn when I first started working with GPUs: they really don't understand transparency, and properly managing transparent things is mostly the CPU's problem, because it messes up the depth buffer. So messing up transparency in the shaders wouldn't work even if there was stuff behind it.